OK, you've gone through your house from the top to the bottom and even the dog kennel and you now have things to sell. What's the best time and best place for your garage sale?
When during the year should you hold your garage sale?
The best time is generally spring, especially early spring. Shoppers have been missing their "fix" all winter and are busting to get out and find bargains!
Summer is next best if it isn't too hot. People won't browse long or even come out if the sun is beating down.
End of summer and fall are often ignored but can also be successful because the weather's just as nice, and there's less competition.
I have found overcast days and, surprisingly rainy days, as being the most successful. I'm not sure of the exact reason but on rainy days, although less people venture out, those that do are keen to buy and seem to browse longer because they welcome the heater that I usually have on and are reluctant to go back out into the rain.
What's the best day to have a yard sale?
You should check your local area for the most popular day but generally most garage sales are held on a Saturday with all serious buyers on the prowl first thing in the morning ready to buy. This is good and recommended if you are new to garage sales.
But then everyone else is having their garage sale on Saturday too so competition to attract buyers is fierce. An alternative for experienced garage salers is to have it on a weekday when serious garage sale customers are free to find bargains. You'll get a lot less of casual buyers though compared to a weekend though.
I have heard some like to have their garage sale on Friday afternoon/early evening (especially on a balmy summer evening) at firm prices – to see what they can get, then a normal one on Saturday. The thinking is that people may not want to miss out by waiting for a better price on Saturday. A similar strategy is used for a one-day garage sale when the prices are firm in the morning or first couple of hours and get more 'negotiable' as the day progresses.
I read somewhere that if you live near a large military base then the 1st of the month is best as that's when they get paid. What "influences" do you have in your community?
What time do most garage sales start and for how long?
If you have a small amount of quality items then a short, intense, painless 3 or 4 hours in the morning say from 7 – 11 or 9 – 12.
An alternative that I like is 3 or 4 hours in the afternoon. You can sleep in and have less competition. Hopefully customers still have money to spend. This afternoon time only works if you are able to keep the location of your garage sale hidden until your actual start time otherwise you will have the dealers knocking on your door first thing in the morning. I'll talk about how to handle these early-birds later. Also, if you start late, highlight your late start time in your ads, flyers and signs so people who come upon your sale in the afternoon don't think that it's been going all morning, all the good stuff has probably gone so decide to skip it.
If you have a big sale or a group sale, then an all-day affair, going to 4pm or 5pm, will give you a better chance to sell as much as possible and to capture as many casual buyers driving past during the day.
A big group sale could also go over 2 or 3 days although this would be a bit of a marathon and for the experienced only as it would need careful planning.
Also, as mentioned earlier, check your local authorities if there are any restrictions on when and how long it can go for.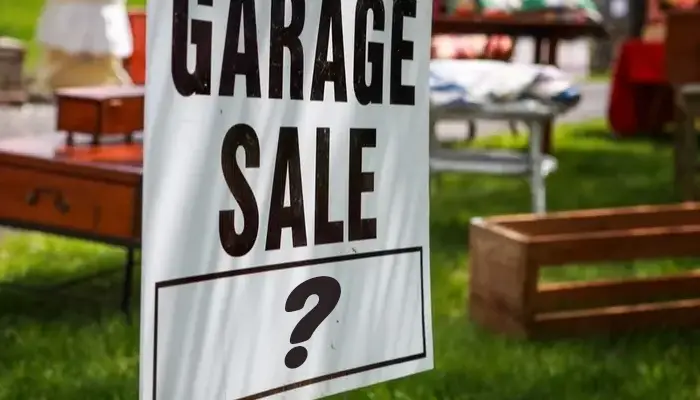 What about the neighbors?
Don't forget to let the neighbors know of the date and times.
Best to find out now if they are planning a big party for the same time and parking will be an issue.
They may even have some tables they can loan you.
Hey, they might like to join in or have one of their own on the same day too! You are likely to attract more buyers if there are 2 or more garage sales near each other.
The neighbor's children might be little entrepreneurs and jump at the chance of setting up their own "lemonade stand". Refer to Best 'Lemonade Stand' tips for more information.