It is unlikely you'll be able to sell everything during your yard sale and you'll have the task of deciding what to do with your unsold items. Some of these decisions would have been made as part of your planning before your yard sale. For example, what charities are in your area that will accept or pick-up specific types of items.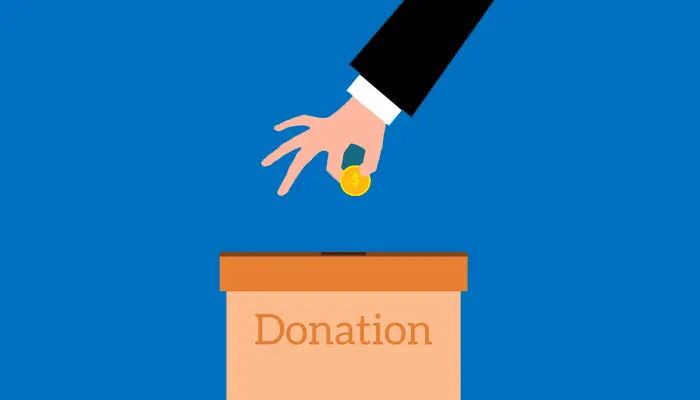 Donate, dump or drag back inside
One of the reasons for your garage sale was to get rid of your clutter so you don't really want to drag the left-overs back inside again! Some exceptions are:
The item is a big item, for example a piece of furniture, in which case you would be best to try selling it separately through a classified garage sale ad or a consignment store.
Jewelery or collectibles to be sold through an on line auction site, for example eBay or an appropriate jeweler or collectibles store. You should've done your home-work by now and have a good idea of it's worth.
You were only half trying to sell a favorite item. I've had a few items that I have put on a top-dollar price thinking that if I can sell it at that price – great. Otherwise I'm happy to hang on to it and try again in my next garage sale.
If any items are not suitable for donating then it goes straight out to the garbage or to the local dump. Always check your local regulations on what can be disposed of in this way. For example, paints and pesticides may require special treatment.
What garage sale items should you NOT donate
Stained, torn or broken mattresses and bases
Stained, torn or broken soft furnishings, including – Lounge suites, chairs, rugs, mats, curtains etc.
Carpets and underfelt
Broken furniture / Incomplete goods
Recalled or unsafe goods
Where to donate your garage sale items items
If you haven't already, in the next day or two, contact the following:
your local charity
church
day care centre
school
homeless shelter
youth center
hospital
nursing home
and check:
If they are interested in any of the groups of items you have left. Books may be great donations for a hospital or nursing home.
If the price stickers need to be removed (most likely!).
If they provide a receipt.
They are more likely to accept your donation if you offer to drop the boxes they are interested in around to them.
When is their best day and time for you to drop them off.
If they provide a pick-up service. Go to donationtown.org to find a charity that will pick up your donations for free.
Some other places to donate specific items
Toys For Tots
Toys can go to Toys For Tots.
One Warm Coat
Outer wear that will keep someone warm — a coat, sweater, jacket, sweatshirt, hats or mittens can go to onewarmcoat.org
Operation Happy Note
Musical instruments for soldiers deployed overseas can go to Operation Happy Note.
National Christina Foundation
Desktop computers, notebooks, keyboards, mouses, educational software or anything else related to computers can go to the National Cristina Foundation.
International Book Project
Books for schools, libraries, churches, nonprofits, and Peace Corps volunteers in over 40 developing countries can go to International Book Project.
Soles4Souls
Gently worn shoes can go to Soles4Souls.
Nike's Reuse a Shoe
Worn-out sneakers to be recycled into rubber play services can go to Nike's Reuse A Shoe.
NFBA
Beds, tables, chairs and other crucial home furnishings can go to the National Furniture Bank Association.
Cell Phones for Soldiers
Cell phones can go to Cell Phones for Soldiers.
Matter of Trust
Other items to be matched with local nonprofit wish lists can be registered at MatterofTrust.
ReDO
Other items can go to ReDO.
Freecycle
Or advertised at Freecycle.

For other specific items, do a Google search to find a local agency to donate it to.
Tax benefits of donating your unsold items
According to the IRS (in the US as at May 2009), donations of goods are deductible if made to qualified organizations. If you live outside the US, you'll need to check with your Taxation Authorities for your options. Donating your unsold items is a great way to get potential tax benefits.
Speaking of tax benefits, did you know most people don't need to pay taxes on the income earned at their garage sale?
I'm not giving taxation or financial advice here so you'll need to check with the IRS for that latest rules and requirements. Depending on the value of your donated items, it could be a simple matter of listing the amount on your 1040's Schedule A and you may need a receipt from the charity.
Clothing and household items donated after August of 2006 must be at least in "good" used condition. I recommend taking a photograph and write a short description and condition of each item in case the IRS wants proof that they were of good condition. Household items include furniture, furnishings, electronics, appliances, and linens.
A receipt for your items may be obtained in one of three ways
The Salvation Army website says:
If you drop off a donation at a local Salvation Army Family Thrift Store or Corps (worship and community center), the clerk or receptionist will be happy to provide you with a receipt.
If your items are dropped off at an unattended Salvation Army drop-box, an itemized list is required to receive a receipt. Your local Salvation Army Corps or Family Thrift Store can have a receipt made out for you once you bring this list to them. Please itemize your donations with the value next to them to claim them for your taxes. Your tax consultant will be the best resource for advice on how to itemize and submit this information.
If you have booked a free pickup of your donated items via satruck.org the truck driver will provide you with a receipt.
To estimate the true fair market value of your items
Refer to the IRS Publication 561, Determining the Value of Donated Property. You should also check eBay & Craigslist (if you hadn't when first deciding on prices) to see what the going price is for an item you're donating.
Valuation Guide for Salvation Army Donations
"The Value Guide below will assist you in determining the tax-deductible value of any items you are donating to The Salvation Army. You will see that the table includes low and high estimates of value. Please choose a value within this range that is in keeping with your item's relative age and quality. If you have questions, your local Salvation Army Thrift Store and donation center will be able to assist you."
| | | |
| --- | --- | --- |
| Appliance | Low | High |
| Air Conditioner | 20.00 | 90.00 |
| Dryer | 45.00 | 90.00 |
| Gas Stove | 50.00 | 125.00 |
| Heaters | 7.50 | 22.00 |
| Radio | 7.50 | 50.00 |
| Refrigerator (Working) | 15.00 | 250.00 |
| T.V. (B/W Working) | 25.00 | 60.00 |
| T.V. (Color Working) | 75.00 | 225.00 |
| Washing Machine | 27.50 | 150.00 |
| | | |
| --- | --- | --- |
| Children's Items | Low | High |
| Bicycles | $15.00 | $65.00 |
| Blouses | $2.00 | $8.00 |
| Boots | $3.00 | $20.00 |
| Coats | $4.50 | $20.00 |
| Dresses | $3.50 | $12.00 |
| Jackets | $3.00 | $25.0 |
| Jeans | $3.50 | $12.00 |
| Pants | $2.50 | $12.00 |
| Shirts | $2.00 | $6.00 |
| Shoes | $2.50 | $8.75 |
| Skirts | $1.50 | $6.00 |
| Slacks | $2.00 | $8.00 |
| Snowsuits | $4.00 | $19.00 |
| Socks | $0.50 | $1.50 |
| Sweaters | $2.50 | $8.00 |
| Underwear | $1.00 | $3.50 |
| | | |
| --- | --- | --- |
| Dry Goods | Low | High |
| Bedspreads | $3.00 | $24.00 |
| Blankets | $2.50 | $8.00 |
| Chair Covers | $15.00 | $35.00 |
| Curtains | $1.50 | $12.00 |
| Drapes | $6.50 | $40.00 |
| Pillows | $2.00 | $8.00 |
| Sheets | $2.00 | $8.00 |
| Throw Rugs | $1.50 | $12.00 |
| Towels | $0.50 | $4.00 |
| | | |
| --- | --- | --- |
| Furniture | Low | High |
| Bed Complete (double) | $50.00 | $170.00 |
| Bed Complete (single) | $35.00 | $100.00 |
| Bedroom Set (complete) | $250.00 | $1,000.00 |
| Carriage | $5.00 | $100.00 |
| Chest | $25.00 | $95.00 |
| China Cabinet | $85.00 | $300.00 |
| Clothes Closet | $15.00 | $50.00 |
| Coffee Table | $15.00 | $65.00 |
| Convertible Sofa (with mattress) | $85.00 | $300.00 |
| Crib (w/mattress) | $25.00 | $100.00 |
| Desk | $25.00 | $140.00 |
| Dining Room Set (complete) | $150.00 | $900.00 |
| Dresser w/Mirror | $20.00 | $100.00 |
| End Tables (2) | $10.00 | $50.00 |
| Floor Lamps | $7.50 | $40.00 |
| Folding Beds | $20.00 | $60.00 |
| Hi Riser | $35.00 | $75.00 |
| High Chair | $10.00 | $50.00 |
| Kitchen Cabinets | $25.00 | $75.00 |
| Kitchen Chair | $2.50 | $10.00 |
| Kitchen Set | $35.00 | $170.00 |
| Mattress (double) | $12.50 | $75.00 |
| Mattress (single) | $15.00 | $35.00 |
| Play-Pen | $3.75 | $30.00 |
| Rugs | $20.00 | $90.00 |
| Secretary | $50.00 | $140.00 |
| Sofa | $35.00 | $200.00 |
| Trunk | $5.00 | $70.00 |
| Wardrobe | $20.00 | $100.00 |
| | | |
| --- | --- | --- |
| Men's Items | Low | High |
| Jackets | $7.50 | $25.00 |
| Over Coats | $15.00 | $60.00 |
| Pajamas | $2.00 | $8.00 |
| Pants-shorts | $3.50 | $10.00 |
| Raincoat | $5.00 | $20.00 |
| Shirts | $2.50 | $12.00 |
| Shoes | $3.50 | $25.00 |
| Slacks | $5.00 | $12.00 |
| Suits | $15.00 | $60.00 |
| Sweaters | $2.50 | $12.00 |
| Swim Trunks | $2.50 | $8.00 |
| Tuxedo | $10.00 | $60.00 |
| Under-shirts | $1.00 | $3.00 |
| Under-shorts | $1.00 | $3.00 |
| | | |
| --- | --- | --- |
| Women's Items | Low | High |
| Bathing Suits | $4.00 | $12.00 |
| Bathrobes | $2.50 | $12.00 |
| Blouse | $2.50 | $12.00 |
| Boots | $2.00 | $5.00 |
| Bras | $1.00 | $3.00 |
| Coats | $10.00 | $40.00 |
| Dresses | $4.00 | $19.00 |
| Evening Dresses | $10.00 | $60.00 |
| Foundation Garments | $3.00 | $8.00 |
| Fur Coats | $25.00 | $400.00 |
| Fur Hats | $7.00 | $15.00 |
| Handbags | $2.00 | $20.00 |
| Hats | $1.00 | $8.00 |
| Jackets | $4.00 | $12.00 |
| Nightgowns | $4.00 | $12.00 |
| Pants Suits | $6.50 | $25.00 |
| Shoes | $2.00 | $25.00 |
| Skirts | $3.00 | $8.00 |
| Slacks | $3.50 | $12.00 |
| Slips | $1.00 | $6.00 |
| Socks | $0.40 | $1.25 |
| Suits | $6.00 | $25.00 |
| Sweaters | $3.75 | $15.00 |
Source: http://www.salvationarmyusa.org – 2018