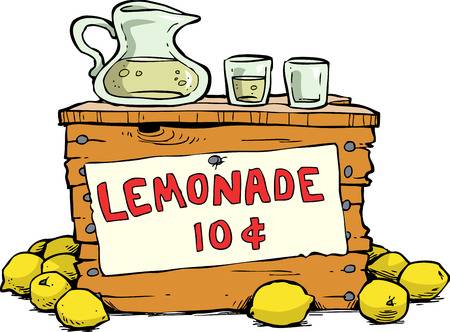 I am using the term "Lemonade Stand" to mean where you could offer on a special table or stand:
Cups actual home-made lemonade.
Cups or boxes of fruit juices.
Cups of different flavored cordials or Kool-Aid.
Cups or small cans of soda.
Cups of jelly.
Free cups of ice and water (great on a hot day).
Home-made colorful popsicles (great on a hot day).
Cups of coffee, tea or soup (irresistible on a cold day).
Candy or licorice bought in bulk and sold in bags for a profit.
Hire a pop corn or cotton candy (fairy floss) machine.
Home-made or bought cookies, cakes or donuts.
If you have a BBQ, then a sausage sizzle, or hamburgers, hot dogs, shasliks, etc. Have lots of onions frying all day – this will do the advertising and selling for you. It will also pull the neighbors in too. Have condiments in squeeze bottles and napkins ready. Have cold cans of soda available for sale too!
A few years ago, a house had a garage sale on Halloween night to appeal to passing parents and also had a small sausage sizzle on the side. It has now become an annual 'ghoulish' sausage sizzle that is more popular and makes more money than the, now smaller side-line, garage sale.
Setting up a 'lemonade stand' tips (especially if the kids are looking after it)
Make sure there is plenty of shade.
Position the stand or table so it can be seen from the road and you're able to keep an eye on them too.
Use plenty of decorations and have them dress-up for the part.
Have a calculator handy.
If you are cooking food, make sure you have a basin of hot soapy water to wash your hands regularly.
If the kids are preparing the food or drinks, make sure you keep an eye on what they are mixing into it.
Make sure kids know not to go to a car to make a sale.
Have a bin near by for rubbish.
Make sure kids know to be polite and cheerful. Smile at their customers and thank them for stopping by, even if they don't buy anything.
Free or charge?
If your costs are low, you could offer them for free so customers keep browsing while drinking/eating/chatting.
May be provide free tea and coffee but charge for the cookies, cakes or donuts.
You could charge a low price to at least cover your costs.
Offer the first cup free. Hopefully they'll come back for more and happily pay 50c for a second cup.
Have a jar on the counter with a sign "Tips gratefully accepted". (Put in some coin & notes first so customers can see what is expected.)
You could charge a bit more where the proceeds go to your favorite charity (make sure a sign says this so customers will feel obliged to buy something from your stand).
Use it as a fun learning opportunity for your kids
Older children (over 7 years old) can learn invaluable life skills.
They will learn how to handle money, work out and give back change.
They will learn how to interact and negotiate with adults.
Unfortunately for you, they may also discover that their childish charms can be used to influence adults.
They will learn how to be neat and organized (we can always hope).
They will learn the basics of presentation skills, sales skills, customer service skills, finance skills.
At the end of the day, they divide up the profits keeping half to spend and the other half to go into their savings account.
Having said all that…
Be mindful of the risk of accidents like scalding from hot coffee, food-poisoning from undercooked food, serious allergic reactions from ingredients used in baked goods.
Drinks can get spilled on your items for sale.
There is the added complication and time required for baking, etc.
If children are running the stand, they may need supervising.
You may find you that you are not allowed to sell food without a permit.
Many people I know who have had a "lemonade stand" recommend just selling pre-packaged drinks and snacks bought in bulk. It's easier and safer.
Other money-making ideas to offer in a "Lemonade Stand" without selling food or refreshments
A stand-up comedy stand: Tell jokes for 25c each or perform a short comedy routine for 50c. My favorite is $2 for a rendition of Abbott & Costello's "Who's on first?". A 'stand-up comedy stand' can be done by adults but is much cuter by children. Keep the jokes clean. You'll only need about 20 jokes to rotate through. Make sure you practice them first to pick out the good ones.
A magic stand: If your child can do some magic or card tricks then why not have a 'magic stand'. Charge 50c for each trick. Make sure you stand is set up so no-one can watch without paying.
A face painting, nail painting and stick-on tattoos stand: This will also help keep the children of shoppers occupied while you make a bit of extra money too.
A massage stand: If you know some-one who can do a basic neck massage or just know how to rub some-one's shoulders then a comfy chair is all you need to offer a 1 minute neck massage for $1. Best not to do anything too fancy or manipulative just a squeeze of the neck and shoulder muscles will do the trick. Who can resist a neck massage!
A busking stand: Well not really a stand but have an adult or child performing with a musical instrument with something to collect donations. Position themselves at the front of your sale area where shoppers need to pass. Most shoppers will feel obliged to throw in some coins on leaving.
Don't forget to mention your 'special stand' in your flyers and ads. You'll find some people will come just for your special stand.