What will sell well in a garage sale?
 Children's clothes (usually outgrown before they are worn out)
 Power and hand tools
 Sporting and exercising equipment (usually only used once)
 Bicycles
 Electrical goods
 Toys
 Kitchenware
 Empty bottles of all kinds
 Furniture (small items)
 Books (especially children's books)
 Gardening equipment
 Costume Jewelry
 Blankets, quilts, bedding, etc.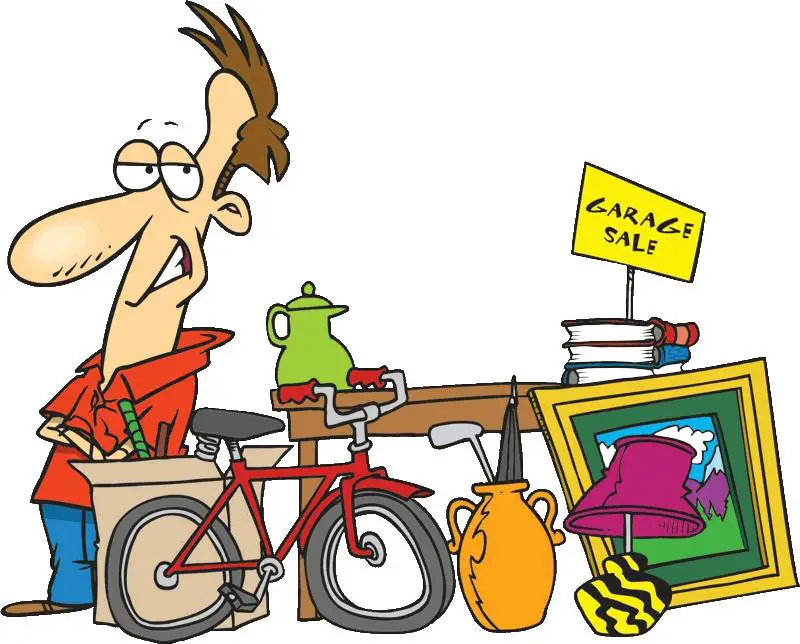 How to find things to sell in your garage sale
It's easy, but it's going to take a while. Go through your house, room by room, cupboard by cupboard, drawer by drawer and take everything out. Then as you repack each item, hold it in front of you and ask yourself:
 Does this add value to my life?
 Can I use something else if I didn't have this anymore?
 When was the last time I used/wore it?
 When am I realistically going to use it again?
 If it's broken, why haven't I fixed it?
At the end you will not only have identified all your unwanted junk but have re-organized your cupboards!
This is a big job if you want to do it properly so spread it over a few weeks. Don't forget the garage, shed, basement, attic and the backyard. Get the kids to do this with their toys too and tell them that can keep the money that they can sell it for – its amazing how this motivates them.
Then…
If it's really junk, put it in the garbage now, although remember:

One person's junk is another's treasure so have a good think if it's really junk to others.
If it's broken, would someone want to tinker with it to try to fix it.

If it's going to be sold, put it in a 'Garage Sale' box, bag or pile.
If you aren't sure, put it in a 'Maybe' box or pile. Go through these again next week.
Anything that looks remotely like an antique or collectible should go in another box to be examined by an appraiser or dealer – just in case.
Anything that could be considered a family heirloom should go in another box. You should check if a family member or relative would like to buy any of these items first to keep it the family. If so, then you should have it appraised and sell it for its fair market value.
Don't think about prices at this stage because you'll start to think that you won't get enough for it and decide to keep it.
You don't want to hear in the news about a person who bought an old broken clock at a garage sale for $1 and discovered it is an antique worth $3,000 – and it was from your garage sale.
What if you have trouble letting go of your possessions?
Do you suffer from Separation Anxiety when trying to decide whether to part with sentimental items like favorite t-shirts, toys, etc? Here are some ways to overcome letting go of the items of questionable sentimental value:
Take some photos of it and you holding it or wearing it so you have something to still remember it by after it has gone.
If it has questionable sentimental value and can be easily replaced for less than, say, $20 it can go. No buts!
If you're still not sure, pack it away for your garage sale next year. If you haven't missed it during that time then it's time for it to go.
What if you don't have enough stuff for a garage sale?
The more items you offer at your garage sale, the more you are likely to sell. The larger your display, the more shoppers you will attract. If you don't think you have enough – try to have a group sale.
A group sale can be:
When others (family, friends, neighbors, school, club, church) provide items of their own for you to sell in your garage sale.
When neighbors have their own garage sale too. Buyers are more likely to come to a group sale when there are two or more houses in the street having a garage sale at the same time. Shoppers think these are like a shopping mall!
See Best group garage sale tips for more tips to have a successful group garage sale
What if you still don't have enough for a sale?
What about including:
Handicrafts by a member of the family, friend or relative.
Baked cookies, cake, muffins, etc.
Home grown fruit or vegetables.
Divide or dig up some of your plants or grow seedlings and put in cheap pots.
Buy something cheaply in bulk (candy, liquid soap, detergent, candles, etc) and repackage it for sale.
Buy additional inventory from other garage sales to fill gaps or compliment the type of items you have. I'm sure I don't need to point out that you should make sure you'll be able to sell the extra stuff you bought so you aren't left with more stuff than you started with! Yeah, I'm sure I don't need to say that so I won't.
What if you really still don't have enough for a sale?
If you don't have a range of goods to attract a cross-section of buyers, then go for a specialty sale. Some examples are:
A children's sale that only has items for children. This makes advertising easier because you only need to put flyers up in areas frequented by new mothers, mothers-to-be and grandparents.
A kitchen & bedding sale marketed to newly weds, young adults who are or have just moved out from home or people setting up a holiday home.
A handicraft sale where you can sell your stock of hand made items before Christmas. People won't pay the same price as they would at a craft fair so you won't make as much money but it can be an excellent promotional event. Have plenty of business cards, discount coupons and brochures to hand out for repeat business.
A music sale where you digitize you entire CD, cassette and/or record collection, burn the files to CDs (as a backup) then sell your entire collection. Check the prices of your classic LPs on eBay first as some LPs are in high demand by collectors.
A Gardener's Delight Sale where you sell your old gardening tools, wheel barrows, buckets, tubs, etc. Throw in some home grown plants, vegetables, fruit, seedlings, etc. Include some crafty statues or garden decorations. Got any old pavers or bricks? What about gardening or home decorating magazines?
Then rent a table in your local flea market, neighborhood or community-wide sale, or join in with someone else's garage sale.
Now get into the garage sale mind-set
The pile or boxes of your unwanted possessions you have just collected is no longer junk or stuff, it is your inventory. You garage sale mind-set should be of a retailer or a shop-owner – you now need to attract customers to buy your inventory and its maximum price.