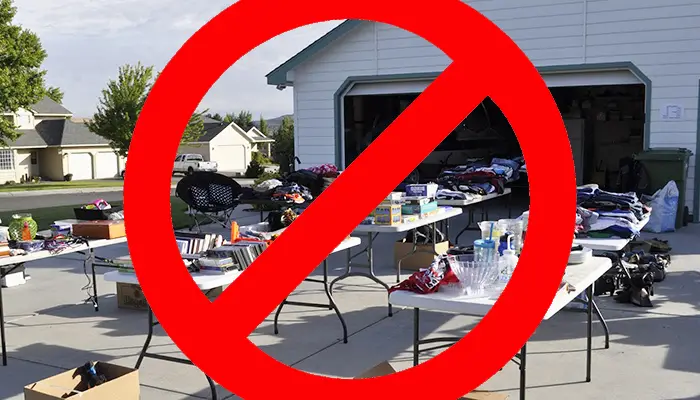 What can't or shouldn't be sold in a garage sale?
Quality jewelry, silverware, antiques, collectibles or paintings.
If you have these items, do your homework, have them appraised and approach a reputable dealer or try eBay or a local online auction site or check these Antique and Collectables Price Guides. You'll get a better price.
Better quality clothes.
Try them at a consignment store first because you are more likely get a better price there. I personally haven't had a lot of success on consignment but it doesn't hurt to give them a go first. It will take a while to get your price.
Similarly with big furniture items (beds, sofas, etc) and anything over $50.
You should consider placing an ad for your garage sale in the local paper. You are more likely to get a higher price that way than through a garage sale.
Don't sell underwear at a yard sale.
Do you really want me to elaborate?
Don't sell illegal goods, unsafe or recalled goods.
Check that the items you're selling haven't been recalled or pose any potential hazards.
Be Careful Selling Baby Items at a Garage Sale
There are about 20 deaths a year from use of older and used crib models made before CPSC and industry safety standards. If you're thinking of selling an old crib, destroy it.
Infant car seats/carriers, when being used as a carrier, can eject infants because the handles break or side locks break.
Old baby walkers can fit through doorways and don't stop at the top of stairs.
Baby gates made until 1985 were accordion style and had large openings which can entrap children or fail to keep them from falling down stairs.
Do not sell old children's clothing that has strings around the neck, such as jackets and sweatshirts, which can catch and strangle children.
Beanbag chairs that can be unzipped can suffocate or choke children.
Since the 1990s, hairdryers have built in shock protection devices. You can tell if your hairdryer has one by whether it has a large rectangular plug and the mark of a recognized testing laboratory.
Selling Recalled Products is Not Only Dangerous, but Illegal
On August 14, 2008, the President signed the Consumer Product Safety Improvement Act of 2008 (CPSIA) into law. Under the new law, it is now illegal to sell ANY recalled product (for adults as well as children). This includes selling items in thrift stores, consignment stores, charities, and individuals holding yard sales and flea markets. The U.S. Consumer Product Safety Commission (CPSC) has created a Handbook for Resale Stores and Product Resellers to help sellers of used products understand the new law and existing regulations. Make sure you visit www.cpsc.gov frequently for updated information. To see a listing of recalled car seats, visit the www.nhtsa.dot.gov and www.recalls.gov for other recalled items.