The pandemic's on-going effects of COVID-19, the Delta, and the Omicron variant have changed how Americans deal with health safety when out in public. Concerns about group activities and events may have an impact on participation at garage or yard sales. So, how does one still have a successful garage or yard sale and keep everyone safe?
It will take a little extra effort to hold a garage sale, but preventative measures for Covid are possible.
The last thing you want is a super-spreader event in your community, so it takes a planning and a little extra effort, but safety is possible. Separating items for sale, leaving wide pathways, and allowing for clean airflow in the garage are the first steps. Other suggestions include:
Have visible signage placed prominently at the entrance to the sale requesting potential buyers to maintain a six-foot distance from others.
Include a statement asking all buyers to wear a mask in garage sale advertisements and signage.
Have a station at the entrance to the sale with cleansing gel or wipes for participants with a trash area.
Place masking or duct tape on the floor or ground at 6' intervals.
Wear a KN95 mask at all times when speaking to customers.
Use an antimicrobial spray and wipes on items after others have touched them.
Use an antimicrobial gel on your hands after touching money or items others have touched.
Avoid touching your eyes, nose, or mouth after touching money or items others have touched.
If the sale is a multi-day event, be sure to use an antimicrobial spray over everything at the end of the day.
Remember, the virus can be transmitted from a vaccinated person if exposed. Although the Centers for Disease Control (CDC) has stated that a vaccinated person is more likely to have less severe symptoms, they can contract the virus or its variants.
Understanding that there are people who will refuse to comply, it is your property, so you have the right to ask someone unwilling to comply with your requests to leave.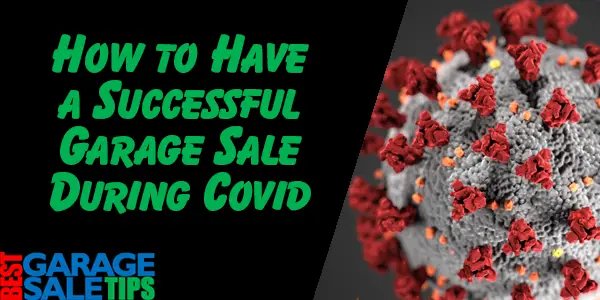 Alternatives to On-site Garage Sales
There has been a growing trend toward online garage sales as alternative garage sales throughout the pandemic. Many communities offer online forums to assist residents with these types of sales. Local newspapers, city websites, and economic development websites have created pages to help garage sale entrepreneurs. Some are free; others have a small charge.
Online garage sale apps allow you to host a virtual garage sale. Of course, this means that potential buyers know about and are looking at these sites, as well. Some also allow you to publicize the date and time of your physical sale.
An advantage of listing your sale items online is classifying them. Many buyers are looking for specific items and can easily find what they want by choosing the classification.
Another benefit is personal safety, as strangers are not entering your home unless they purchase online.
Listing Your Items for Sale
Listing your entries will require taking a sharp, clear photo of each item, writing a brief description, and setting a price.
Payment Methods
One advantage of online sales is how you will accept payment. Suppose you do not want to accept cash or checks. You can choose apps such as PayPal, Venmo, Square, etc. These apps charge a small percentage of the sales price, so be aware of the cost associated with that type of payment if you need a certain amount from each item you sell.
Pickup Options
Your personal information is not required to be shared. Once payment is accepted, you'll communicate via the app to arrange a time and place for an inspection and pickup. Some of the online apps offer shipping as an option.
Types of Online Garage Sale Apps
VarageSale.  An app that people can join as sellers or buyers, but for safety, must go through a review process before they are allowed access. After downloading the app, you can access it through Facebook, allowing you to view a buyer's profile, as a safety feature, before following through with a transaction.
CPlus for Craigslist. The app is easy to use to create classified-style ads.
Nextdoor. A local site app targeted at neighborhoods, so limited in area of reach.
OfferUp. This app allows you to list a picture and tag only, which is quick and easy to use. It also offers an option for shipping.
Facebook Marketplace. This feature of the social media site allows you to list your sale items and connect to various groups within your area.
Selling During Covid
How you choose to sell your goods, whether at a physical sale or via an online option, you can maintain a safe environment for you, your family, and your home. Planning is the key to a successful sale during Covid. Stay safe and stay healthy.