There are subtle differences between the types of sales designed by homeowners to rid themselves of their excess.
Garage Sales vs. Yard Sales
The terms used interchangeably, although technically, are different based on their location.  A garage sale is within a garage, under a carport, or in a building separate from the home.
A yard sale is held in an open space and may have tents or canopies set with tables of items beneath.  Both types offer the buyers used goods priced, hopefully, reasonably yet at a profit.
Sellers that do not reduce their inventory during one sale may choose to extend the sale, hold it the following week, or combine their items with a friend or neighbor at another time.
| | | | | |
| --- | --- | --- | --- | --- |
| Type of Sale | On-Site Location | Online (items listed individually, sales can be done over time) | Bargain or Haggle Price Acceptable | Advertisement Method |
| Garage Sale | In garage, carport, or detached building, or combined with neighbors for a neighborhood sale. | Items may be offered on community forum. | Yes | Newspaper Online Forums Signage Some radio stations |
| Yard Sale | In yard or open lot, or combined along a street as a multi-family event, or at a large community venue. | Items may be offered on community forum. | Yes | Newspaper Online Forums Signage Some radio stations |
| Estate Sale | On-site (may be displayed in yard or garage) Auction house | Typically, not, but newer venues are emerging | No, item goes to the highest bidder | Sales bills Newspaper Online media   |
| Moving Sale | In garage, carport, or yard | May be offered this way, but typically sellers want it settled in a day or two | Yes | Newspaper Online Media/Forums Signage Some radio stations |
What is an Estate Sale?
Another type of sale of interest to buyers is the estate sale- but what is an estate sale?. This is a special sale promoted by a third party to dispose of a whole household of goods. The estate sale happens after the owner has moved to a retirement or nursing facility or passed to settle the estate for probate.
In most cases, an estate sale is advertised with an itemized sale bill, and purchases occur via an auction of each item. Buyers are allowed to view the items before the sale. At the end of the auction, buyers pay for the things they "won" by their bid.
Estate sales happen on the homeowner's property or at an auction house where all household goods are moved. Certain items may have a minimum bid price placed on them by family members. If the minimum bid is not met, the article may be pulled from the sale and held for a different time or returned to the family.
Often, estate sales have heirloom items, treasured classic books, musical instruments, classic furniture, and artwork that can be purchased for a fraction of the cost if found in an antique or second-hand market.
What is a moving sale?
A moving sale happens as a garage or yard sale while sellers transition from their location.  As the seller's pack for their move, they discover accumulated items that are no longer used or will not be needed in their new home.  Therefore, it is called a moving sale. A moving sale generally is a one-time event as the sellers will be leaving.
History of Garage and Yard Sales
Historically, garage and yard sales evolved from rummage sales or bazaars in the 1950s and 1960s. During those post-WWII years, housing developments and suburban neighborhoods grew in the post-war economy. It was also when Americans realized increased affluence resulting in an over-abundance of household goods.  
Rummage sales were typically charitable events for churches and other non-profit organizations, however in the 1970s, a shift in the social culture turned from philanthropic sales to personal income.
Across America, homeowners began opening their garages to sell their used excess goods, hence the term garage sale.  Buyers began to scour the neighborhoods for low-cost treasures, and the homeowners enjoyed the profits of their work.  The 1970s and 1980s saw a rise in collecting historical relics and furnishings, which many modern homeowners willingly sold.
As the trend for garage sales grew, the need for exposure to the goods for sale often expanded to the front yard, becoming known as the yard sale.  Often multiple families would join in hosting a "multi-family" sale with the promise of drawing more buyers.  Most sales are held on weekends to draw larger crowds looking for a good deal.
Are Garage Sales and Yard Sales Profitable?
Today's market has seen a growth in professional garage and yard sale vendors.  This group of entrepreneurs scout garage and yard sales early to get the best deals, then host their own weekly or monthly sales to resell the items.  They may specialize in resalable items by seeking and reselling collectibles, tools, furniture, clothing, etc., or host their sales with various things.
Restored furniture has gained popularity with recent DIY and HGTV shows.  Many refinish or paint furniture before reselling, creating updated items at reasonable prices compared to new ones.
During the pandemic, online garage sales have grown in popularity.  Sellers use community forums for advertising their items, then arrange for pick-up or delivery at an added cost. 
Who Shops at Garage or Yard Sales?
The clientele can be anyone, but most of today's garage or yard sale buyers are between 20-40 years of age and are looking to outfit their children, homes, and workspaces. Estimates show that about two-thirds of the buyers at on-site sales are female, but there are no gender-based statistics yet for online sales.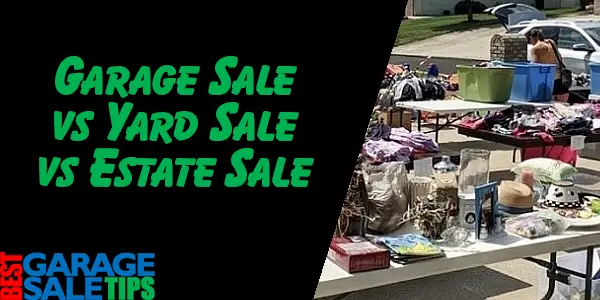 Can I bargain for garage or yard sale items?
Some buyers will offer less than the asking price or may bargain by providing a price for several items.  Other buyers may show a price and leave their number stating, "If you don't sell this by the time you close, call me, and I'll take it for $xx." However, it is not good etiquette to try to cheat a seller out of an item.
Many sellers will reduce the prices as they near their closing time to avoid packing things and returning them to the home.
The Social Value of Garage and Yard Sales
A garage or yard sale can have some redeeming benefits that go beyond profit.  It offers an opportunity to meet neighbors as well as strangers.  It can be an educational tool for children to learn about finances as they can participate in pricing and selling their used items.  It is a forum where people of all socio-economic backgrounds can gather.  These sales give sellers an insight into buying, selling, haggling, and receiving a win-win feeling.
Is there garage and yard sale etiquette?
Commonly considered rules of garage sales include:
For Buyers:
Do not show up early to buy before the sale starts
Do not pay with large bills
Do not make fun of sale items or the prices requested
Do not disrespect the seller's property
Do not bargain aggressively
For Sellers:
Do be prepared with a supply of small bills and change
Do not sell to those that come before the stated start time
Do not over-price items
Do mark prices clearly on items
Do take down signs after the sale
Do remove unsold items from the yard
Regional or Colloquial Names for Garage or Yard Sales
While you may seek sales venues under garage or yard sales titles in the classified ads of local papers or online offerings in most areas, you may find them as different names in various regions.
For example, they may be called stoop or apartment sales in urban areas.  They are mostly referred to as yard sales throughout the Midwest, while the South may find you seeking a porch or "gimme" sale.  In the East, tag sales are the popular vocabulary, and out West, the terminology is garage or g-sales.