Back in the day there was only a few ways to find a garage sale near you. Maybe you looked in the newspaper or drove around aimlessly looking for signs. Thankfully with the magic of the Internet we can save a TON of time in our hunt, and maybe even see what's for sale before wasting out time goin in person. Below I will outline my personal favorite ways to find local garage sales near me.
Where to find local garage sales near me
1. Craigslist
Classic Craigslist. They've been around for forever and basically mimic the old newspaper classifies we used to use to find garage sales. Head over to Craigslist and navigate to your location, as granular as you'd like to get.
Find your location > for sale > garage sale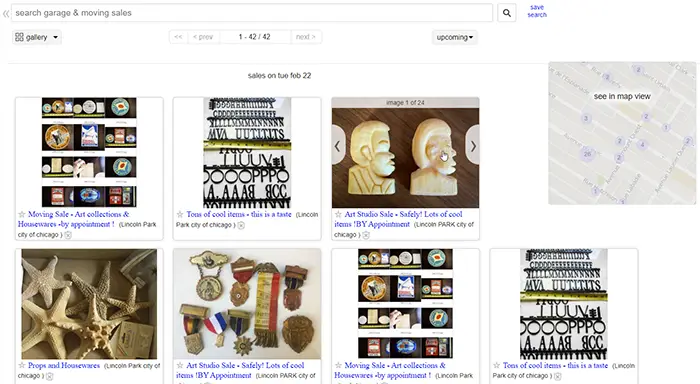 Once you get the the garage sales section of your local craigslist you can click the map or just scroll and check out any photos or headlines that catch your eye. Their search is pretty simple yet robust. You can even search upcoming garage sales to plan out your adventures.
2. Facebook Marketplace
Marketplace › Classifieds › Garage Sale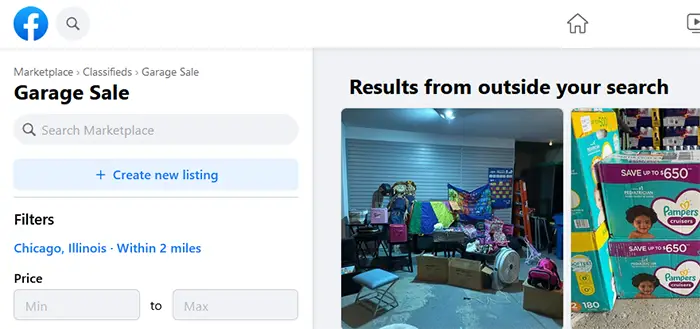 As to not be outdone, Facebook decided a while back to create their own version of Craigslist. This can be an advantage because unlike Craigslist, users typically are posting with their real profiles so things don't seem so cold and anonymous.
Craiglist can have a bit of a stigma around the fact that there's really no verification outside of an email address. However most Facebook users in a local group tend to be who they say they are and have pics and completed profiles. As with any online-to-in-person meeting it's always important to practice proper safety measures.
3. Garage Sale Finder Websites
Over the years websites specializing in finding garage sales near you have been popping up. Here's some sites to check out:
4. Local Newspaper
This may seem a bit outdated to some people but the truth is they do still publish garage sales in local newspapers. The people advertising their garage sales typically pay for their listing. Anyone paying for a garage sale listing probably will have a decent sized sale that's worth taking a look at, especially if some of the items sound good.
5. Drive around!
To keep in line with our "old-school" ways to find garage sales near me, I like to just drive around! Starting with your own neighborhood and venturing out further if time permits. Going up and down side-streets early on a Saturday is a great way to find garage sales close to home.
The combination of newspapers and driving used to be the only way we'd find garage sales. Driving was the way we used to find garage sales near me as a kid. I would ride around in the car with my mom and look for signs pointing us in the right direction. Thanks to the Internet we have a much easier time- but the old way still work too.
What should you wear to a garage sale? We suggest dressing down which we explore on the linked post.