We're going to let you in a little secret to getting the best deals at a garage sale or yard sale and it starts before you even arrive.
So what type of clothing should you wear to a garage sale?
We suggest dressing down a bit to help you in price negations. If you are wearing fancy clothes and shoes especially with designer labels, garage sale hosts will know you can afford it and may be less inclined to let you haggle on the price at garage sales.
You don't want too look too bad though! You still want to look presentable of course, but wearing nice clothing will present an image that you can probably afford asking price of whatever it is you are interested in.
If I saw somebody walking up to my garage sale in a suit and tie, or a lady with a designer handbag, I would tell them that I'm firm on the price. And chances are if they are wearing those items, they will just move on and buy the item at full price if the seller isn't willing to negotiate.
We definitely don't suggest the 3-piece suit and Rolls Rice approach like this fellow: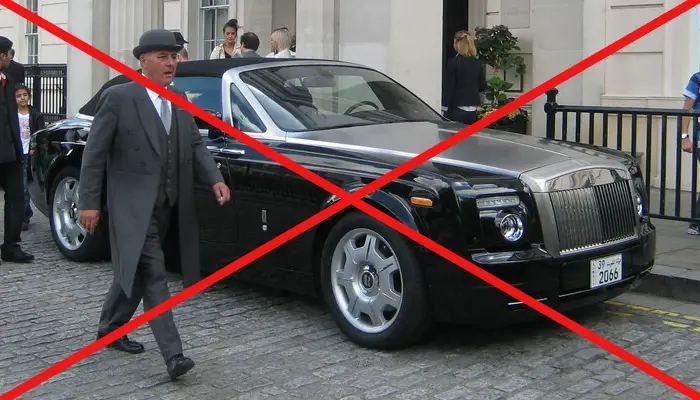 What Should You Wear if You're Hosting a Garage Sale?
On the other side of the coin, if you are hosting a garage sale it's worth thinking about what you will wear as the seller. If you're hosting a garage sale we recommend wearing something comfortable and bright. If you have a brightly colored, even neon t-shirt, it can help you stand out so people know who's the seller.
Of course if you're sitting behind the cash register everybody will know you're the host. However, you will be moving around a lot throughout the day and if things get busy you'll want to stand out from the crowd.
If this was at a store, you'd have a uniform, but at a garage sale you obviously don't have that. Instead we suggest you and anyone helping to wear bright t-shirts. Ideally something like a neon yellow shirt will stand out and help buyers differentiate you from other buyers and know you are the one to ask about items, pricing, usage or anything else.
What Should You Wear to an Estate Sale?
Estate sales are a bit different than garage sales and yard sales, but generally our advice is the same. You want to look nice but not so nice that you hurt your chances at price negations. If you look rich- sellers may not budge on their prices.
Estate sales can involve a bit more walking depending on the size of the homes and how many you're visiting in one day. Wearing clean and comfortable shoes is the best idea. Should should be clean because you'll be walking through somebody's home, unlike a garage sale, and it would be impolite to wear dirty shoes or boots.
---
Perception is what we're after here. Unfortunately we live in a world wear people judge books by their covers. In the case of negotiating at garage sales, yard sales, or estate sales it comes down to presenting yourself in a nice way, without looking rich and fancy. Getting the best deals at a garage sale is a lot easier if you don't look rich.